A sampling of pulls from the Josef Ruefelli Collection, named…
Shaker-inspired knobs and pulls adorn a piece from The Furniture…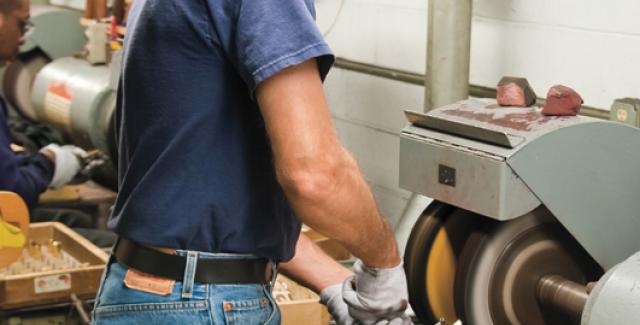 Color-finishing is still done the old-fashioned way: by hand.
Colonial Bronze offers custom pieces, like this leather-wrapped brass lever…
A family-run company looks to the past to stay sharp in the high-end hardware industry.
Business is good, says Jamie Gregg, and he has history to thank for it.
Colonial Bronze Company, Gregg's forward-thinking business with a name out of the past, has been manufacturing brass hardware—knobs, pulls, rods, hinges, and the like—since 1927, and the more things change in the industry, the more it relies on good old-fashioned know-how to stay on top.
"The trend in high-end hardware is modern, clean, streamlined," says Gregg, CEO and president of the Torrington-based company. "Midcentury modern is everywhere—again. The ornate, the baroque is dying . . . or is already dead. It may actually be time to throw some dirt on it," he says with a laugh. Customers are clamoring for modern, unfettered designs, he explains, and that's fine by him, because Colonial Bronze offers lots of iconic midcentury styles. In fact, the company never stopped making them, not since the middle of the twentieth century. "We just dust off the designs," says Gregg.
Colonial Bronze customers consistently get the real deal—fine design-driven, 100 percent brass hardware with a "boutique" vibe and uncommon options, including tooled leather, in dozens of styles and finishes—all of it manufactured in the U.S.
The company was founded by Gregg's grandfather and great uncle, Swiss toolmakers who settled in the Bronx; the name they chose for their fledgling business "is actually a misnomer," says Gregg, "because nothing we do is colonial—and nothing is made of bronze."
They were manufacturing simple builders' hardware when, in 1930, the brothers moved the business to Torrington in Connecticut's Naugatuck River Valley, at that time the heart of the brass industry. Today,
Gregg, his wife, Joanne, and their forty employees operate out of the original building—albeit modernized.
Gregg's father, James, worked his way up and eventually ran the business while Gregg opted for a career in law. Years later, when he was working seven days a week and yearning for a "simpler lifestyle," he changed course and went to work for his dad. And while he embraced the company's strengths, he saw things differently, and knew they had to stake out a claim in the crowded industry. He came up with the unconventional idea of a lifetime guarantee soon after he was named president in 1993. "We started Finishes for Life in 1996," he says, "and while we have replaced a few things dating back to 1997, it hasn't amounted to much." Being able to instill that kind of confidence in his customers was worth it. And that bolstered his own confidence in the company.
When brass manufacturing in Connecticut started to decline, Colonial Bronze held its ground. When companies started sending work offshore, Gregg upgraded the factory and expanded the operation. "It was scary," he remembers. "People were telling us, 'You know that knob you sell for $1.24? Well I can get it from China for 83 cents.' We had to change, and change the way we were seen. We had to make the line a lot more complicated and design-oriented."
They invested in state-of-the-art equipment (always using 100 percent solid brass stock), added styles, and increased offerings to thirty-five colors and thirty-nine finishes, including pewter, antique brass, copper, nickel, and polished chrome.
In time, Gregg imagined hardware made of mixed materials—wood, stone, even Corian— and eventually fell in love with leather. In 2006, he partnered with Edelman Leather and introduced a line that marries solid brass with exquisitely finished skins in a wide array of colors, textures, and finishes. He christened the division Tanner's Craft, and it was awarded the 2009 Innovative Product of the Year by the Decorative Plumbing and Hardware Association. Other innovations include hardware with antimicrobial features, the 2011 winner of the Nightingale Product Design Award, given by the national nonprofit Center for Health Design.
These days Gregg oversees all design work, testing, and product development for the company, and with his wife travels frequently to trade shows.
They often work seven days a week—so much for the simpler life. "I have questioned the wisdom of what we're doing on more than one ­occasion," he says, jokingly. "We work really hard . . . but I will say, it's a real source of pride." •
Colonial Bronze Company
Torrington
(860) 489-9233
colonialbronze.com
tannerscraft.com