5 Challenges to Renovating a Historic Home
December 1, 2019

Sponsored Content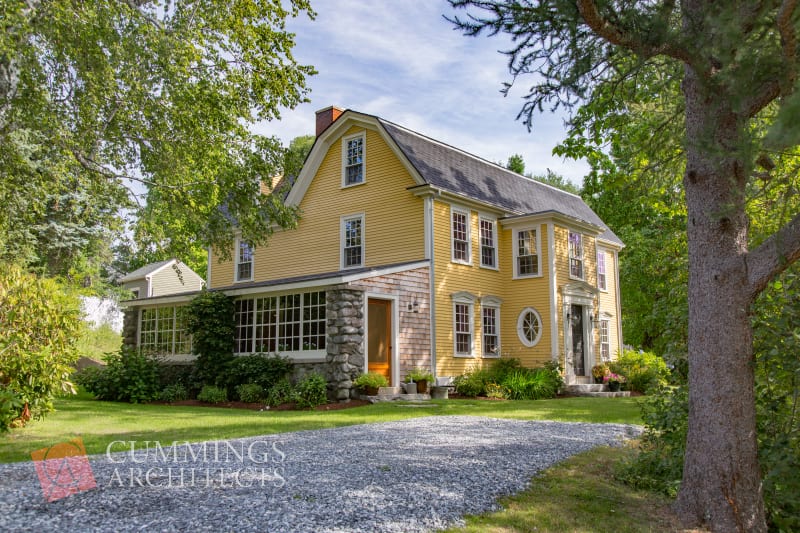 New England is home to the highest concentration of historic homes in the country. Peppered across main streets and scenic country roads from Connecticut to Maine, they've withstood Colonial revolt, a Revolutionary war, the invention of indoor plumbing, and record-setting snowstorms. That's good news for New Englanders who love the architectural bones and timeless details these houses offer. But anyone who has ever lived in a house with a century or two of history knows there are certainly challenges to renovating a historic home.
Mathew Cummings, principal and founder of Cummings Architects + Interiors, knows these challenges well. For more than 20 years he's specialized in historic homes and working with clients to transform the homes into spaces that are fresh, inviting, and livable, while still respecting their storied past. He walked us through potential obstacles that homeowners may face, as well as the extraordinary rewards of living in a renovated house that's been transformed into a true home.
Meshing modern with historic
"One of the biggest misconceptions is that working with an architect and design team trained in historic preservation means that you'll end up living in a stiff and uncomfortable museum," says Cummings. The reality is that homeowners have the option to embrace all the wonderful design elements from the last few hundred years while integrating a modern lifestyle.
Part of the excitement is choosing which historical elements to keep and which to modernize. For example, the house may have 200-year-old beams that can be restored and exposed, or original millwork and paneling. These elements can be mindfully paired with state-of-the-art appliances, contemporary bathroom amenities, and statement furniture pieces that all blend together to create comfortable and inviting spaces that feel timeless.
Undoing previous renovations
While New England's historic homes have weathered countless events and seasons, it's the changing design trends that have the biggest impact on how the homes look and function. Unfortunately, not all modern updates were for the better.
Cummings has seen everything from kitchen or bathroom additions done in completely different architectural styles that feel haphazardly tacked on, to design disasters that make houses feel dark and claustrophobic.
"Instead of being overwhelmed with poorly executed past renovations, this is where homeowners should have fun and really feel out the house," explains Cummings. "Create a design that brings together your historic and contemporary wish list and do so in a way that takes advantage of the house's roots and its future potential."
Restoration versus preservation
"Understanding this major difference will help inform a viable budget and scope of work," notes Cummings.
Simply put, preservation is retaining and repairing something in its original historic form to ensure it doesn't further erode. Think painting original paneling without adjusting how crooked it has become or oiling down original floorboards but not sanding out their luster.
Sometimes, however, preservation isn't an option. When part of the house is structurally unsound or rotting, or when an element of the home was masked by an inferior renovation, then restoration to a particular style can be the better choice. Craftsmen will move and reuse original elements of the house, in addition to building with new materials, to make sure the finished renovation depicts the intended style and era of the home.
Deciding on a wish list
There is such a thing as too much choice. When renovating a historic home, homeowners, designers, and architects need to work together to finalize a plan. But the long breadth of history can often lead to decision overload. To help whittle down a wish list, Cummings advises the following:
• How will you be using the house? Do you have an active growing family, or will it be a retirement retreat?
• How does the home fit into the larger community? Is it part of a historic main street where several other houses have been renovated, does it have deep ties to local figures, or does it stand alone on a parcel of land?
• Determine must-haves and optional elements. Communicate what you absolutely cannot live without versus what is nice to have based on budget, physical space, and style preferences.
Understanding the time commitment
Don't expect a turnaround in a few weeks. Renovating a historic home requires custom designs and handmade items which, by default, make historic renovation projects longer than those for modern homes.
"In New England we are lucky to have some of the best craftspeople in the country. However, everyone from historic masons to skilled wood workers is in high demand," says Cummings.
Even though it may seem quicker to work with a builder or carpenter skilled for a new build or modern renovation project, it's worth a slightly longer timeline to ensure your entire team specializes in the finer points of historic construction.
But even with a few obstacles, Cummings states that in the end a historic renovation that combines old and new in a way that excites homeowners is the most important aspect of the transformation.
Cummings Architecture + Interiors, Ipswich, Mass., 978-356-5026